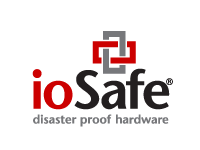 Some background on ioSafe™:
ioSafe™ is a US corporation that designs Network Attached Storage (NAS) devices.  The company was founded in 2004.  ioSafe™ NAS devices have been designed to protect storage from heat, fire, and water submersion.  ioSafe™ has partnered with Synology to use their operating system DSM.
Main Website:  https://iosafe.com/
Why we decided to partner with ioSafe™:
LANTEC Systems, Inc. uses ioSafe NAS devices for customers that have a specific need of protection such as the military, police, and industrial customers.
Product Lines:
LANTEC Systems, Inc. sells the full line of ioSafe™ products.